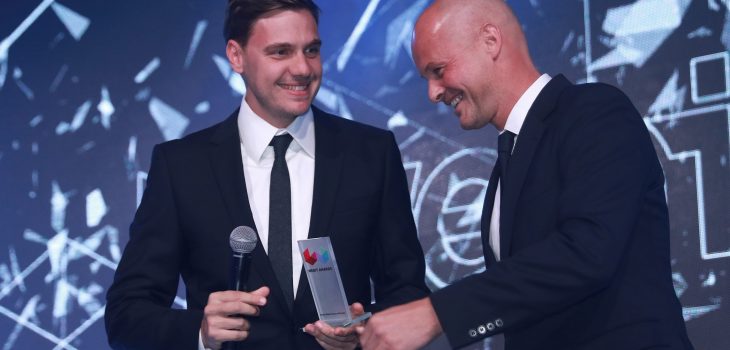 Vbox7.com wins Best Entertainment App awardThe mobile app of video entertainment website Vbox7.com, part of Netinfo, won the Webit Award for best entertainment app in Bulgaria. The Webit awards distinguishing projects and companies in the digital industry are among the most reputable awards in this field, while the jury selecting the winners comprises 20 international and Bulgarian experts.
Vbox7.com's iOS and Android app has been developed in line with the latest trends in the industry, completely following user preferences and demands. "Through Vbox7.com's mobile app we offer the best user experience to everyone who watches and searches videos on a daily basis. This, along with the unique video content we deliver to our users, has turned Vbox7.com into one of the top choice mobile apps in Bulgaria when it comes to entertainment. The Webit award is a great recognition for our product and our team," said Netinfo CEO Hristo Hristov.
The Vbox7.com app has been developed jointly with Upnetix. It features attractive design and allows users to personalize their preferences – to create and categorize playlists of video content, to instantly share videos in social networks, etc. The app is one of the most popular mobile apps, in Bulgaria and has been downloaded over 1m times.
Vbox7.com is Bulgaria's biggest video entertainment website, attracting over 2m visitors a month. Users watch an average of 20 minutes of video content a day on the platform. The website offers the latest Bulgarian and international music hits, sports, as well as an abundance of original video content such as web series, vlogger series and channels created by the producers at 7Talents, part of Netinfo. Some of the most popular among them are teen web series Don't Do That, Bro, student web comedy Apartment 404, car review series Bri4ka, sports commentary show hosted by top journalists Tomislav Rusev and Niki Alexandrov Boots Off, online reality series Sweet Dates, etc. In Q1 2017 Bri4ka, Don't Do That, Bro and Sweet Dates were among the most watched content by the users of Vbox7.com's mobile app.