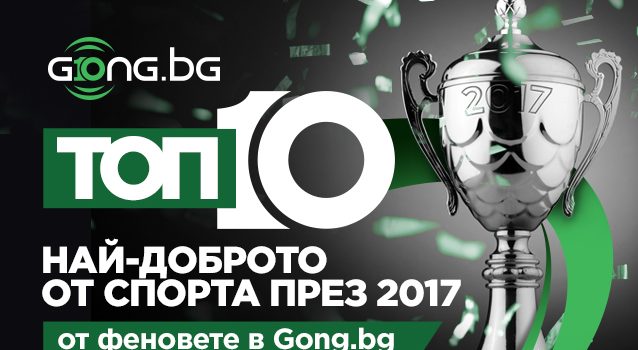 Bulgaria's best tennis player knocks out historic doubling of Real Madrid's Champions League title, leaving it at No. 2
Grigor Dimitrov's title at the ATP Finals in London is the most important sports events in 2017, according to the users of sports website Gong.bg. Over the course of two weeks, they were able to vote in a survey organized by Gong.bg to determine the TOP 10 best sports events of 2017.
Some 60% of all participants in the survey voted for Grigor Dimitrov, giving him the well-deserved first place in the ranking. Thus, Dimitrov's achievement outplaced the historically doubled title of Real Madrid, leaving it second with some 10% of online votes.
Apart from football, Grigor Dimitrov's tennis achievement outperformed the greatest boxing match of the year which faced Anthony Joshua and Vladimir Clichko, which ranked third in the list with 9% of all votes.
Grigor Dimitrov's great start of 2017 – the titles he won in Brisbane and Sofia,  the semi-final in Australian Open, ranked fourth in the list with 8% of the votes. The fifth position went to the success of Bulgaria's artistic gymnasts with the three medals they won at the World Championship in Pesaro – a bronze medal for Nevyana Vladinova, a silver medal in the all-around competitions and a bronze medal in the balls and ropes tourneys. Radoslav Yankov came sixth with his small world cup in the parallel giant slalom, while the seventh position went to Chelsea who became England's champions with their record 13 consecutive wins in the Premiership.
The eighth spot in the online vote is for the most expensive match in boxing history which faced Conor McGregor and Floyd Mayweather. Serena Williams, who broke Steffi Graf's record for biggest number of won Grand Slam trophies, ranked ninth. The tenth place went to the fourth title of Lewis Hamilton and his breaking of Michael Schumacher's record of biggest number of won pole positions.
You can find the full ranking of 2017's best sports events and details about them here >>> http://bit.ly/2kdEfxD
Gong.bg's ranking includes the most important sports events of the year, but the website's team personal ranking put Gong.bg's anniversary at No. 1. In 2017, the website marked its 10th birthday, organizing a series of special projects targeting its users.