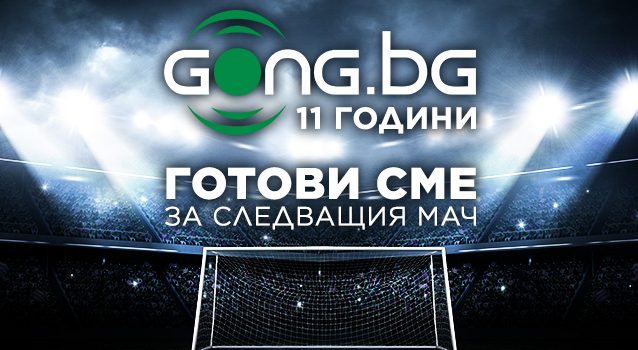 For its birthday, the website has prepared special sections dedicated to the DIEMA XTRA Sofia Open tourney and the Winter Olympics
One of Bulgaria's favorite and most reputed sports websites – Gong.bg, part of the portfolio of Netinfo and Nova Broadcasting Group, is marking its 11th birthday just days before the start of two of the most exciting sports events this season – the DIEMA XTRA Sofia Open tennis tourney and the Winter Olympics in South Korea.
To mark the occasion, the website's team has also prepared a special address to its fans >>> http://bit.ly/2BKnxfk
Sports fans will be able to follow the latest and most exciting moments from the two sports events in the website's new special sections, prepared by Gong.bg's team. They will be able to learn all details, developments, and comments about the tennis tourney and the Olympics live.
On February 4-11th, Sofia is hosting the DIEMA XTRA Sofia Open tourney, which will be aired on DIEMA XTRA. The competition will be part of the ATP 250, and the winner will add 250 points to their score in the global rank list.
The next major sports event, which everyone can follow on Gong.bg, are the XXIII Winter Olympic Games in South Korea. They will take place on February 9-25th. South Korea is hosting the Olympics for the second time – in 1998, the Summer Olympics took place in Seoul.
This year, Gong.bg will also offer a special sub-website for the World Football Championship, which will take place in Russia in the summer, featuring news, latest information, expert comments and curious details about the teams, tourney history, players and other topics of interest for football fans. Preparations for Mondial 2018 are already underway, and even now the website has more than 1,800 articles dedicated to the tourney.
Gong.bg's history started with the creation of the Gong sports show on Darik Radio in 1993, which still runs on the radio air. Its creator is Tomislav Rusev, who, jointly with Niki Alexandrov, launched the Gong.bg website in 2007.
In its 11-year history, the website has accumulated over 500,000 articles and a forum, where users comment all topics from the world of sports. There are also over 500,000 Facebook fans, trusting Gong.bg and following all sports events on the website's page on the social network.