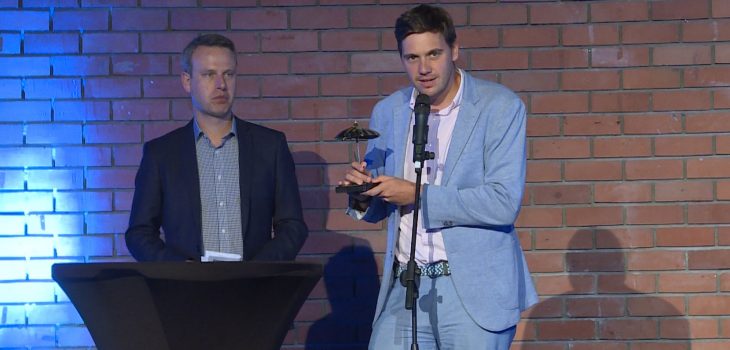 The web teen series has attracted nearly 20MM views on all platforms since its creation
The first Bulgarian web teen series Don't Do That, Bro, which users watch on Vbox7.com, won the best web series award at the international media festival Mediamixx that took place in Thessaloniki on June 1-3rd. This is the first international recognition for the series. A total of 35 productions from four continents competed in 10 categories for Mediamixx's Golden Umbrella awards.
The favourite series of teenagers, created by the producers at 7Talents, part of Bulgaria's biggest digital media and technology company Netinfo, was the undisputed leader in its category. The nominees included several other productions of the Bulgarian team – Appartment 404, #KIFLA and Summer Flirt. You can find more information about the awards here.
Since its creation, web series Don't Do That, Bro has registered nearly 20m views online, attracting over 100,000 fans in social networks.
"We launched Don't Do That, Bro in April last year, and today the series has already won the hearts of hundreds of thousands of online users. The series has managed to very accurately meet the demands of this particularly specific audience, who has no time to watch long productions, who is online all the time and wants fast entertainment – right here, right now. Don't Do That, Bro offers a unique experience and tailor-made content on each and every platforms users watch it on – Vbox7, Instagram, Facebook, Viber, YouTube. The series' success is also due to its authenticity – teenagers find themselves in the story, the characters and the plots," Netinfo CEO said at the award giving ceremony.
Don't Do That, Bro follows the life of teenager Misho, who experiences the stories that are typical for every young boy – the first love, the problems at school, etc. The main characters in the series are performed by Mino Karadzhov (Misho), Ivan Tishev (Dido), Nadya Petrova (Beatrice).
The series has three seasons and one special edition behind its back. Don't Do That, Bro also has its own hit soundtrack – Nadia's song Only You, which has made it into the Top 10 of many radio stations and music televisions in Bulgaria, as well as a book – Misho's Diary. It was one of the best sold titles in local bookstores in the week of its release.
The people behind Don't Do That, Bro are the production team of 7Talents, part of Netinfo, which is specialized in producing exclusive entertainment video web content. 7Talents is also behind the series Appartament 404, while a week ago it launched its latest celebrity web series Follow Me, featuring singer Tita. The series is a joint production with rapper Krisko's production company – ADAMAND.
7Talents'  team is also the creator of the first singles web reality in Bulgaria – Summer Flirt; currently, they are working on dating show Sweet Dates. Their products include dozens of web series, which top the rankings of Bulgaria's best watched videos online every week Бри4ка, Natali's beauty, "You Bet", "Boots Off", "She and He", "Sex Chat", etc
You can watch the latest episodes of Don't Do That, Bro on Vbox7.com every Wednesday at 16:00 h. You can find more news about the series on Facebook and Instagram